Do you think Ivanka will design the fake mustache? This columnist has no doubt that she might try. After all, Donny did say that 'there's no one more qualified in the world' (source:
Independent
).
This is the same dumb bitch who underpays her workers and can't put a proper sentence together. Racist though she is as she demonstrated during the entire debacle regarding the Confederate battleflag while she was governor of S, at least Nikki Haley had
some
experience in government and in diplomacy (even though she sucked at at).
Putting Ivanka Trump in the United Nations as the American ambassador would be like making Kelly Bundy the head of the Central Intelligence Agency.
Oh, God!
I mean, at least Barron has his entertainment value. This writer almost feels sorry for him, but almost only counts in horseshoes, hand grenades, and girlfriends.
The punk might even learn something from the experience and tell his old man to shut up before he makes things worse. However, to put that bimbo in that seat will more than likely be the death of this country-which is already teetering on the brink of collapse, as racial tensions flare and cultural minorities continue to be attacked by white supremacists who are so stupid that they don't even realize they have African ancestry, too.
It still doesn't explain why they can't jump, but we can discuss that another day.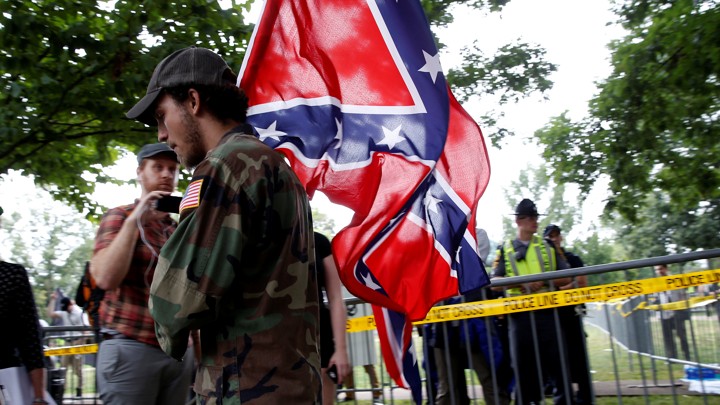 https://www.theatlantic.com/science/archive/2017/08/white-nationalists-dna-ancestry/537108/
Ivanka knows nothing of foreign diplomacy. That's in the departments of Chelsea Clinton and either Malia or Sasha Obama, whomever of the two is going to eventually run for the White House-assuming that Trump won't have handed the keys to the United States to another foreign power.
Don't laugh. He bends over for Putin all the time, so this columnist wouldn't put it past the son of a cum dump.
By the way, did you know that Trump responded to Senator Elizabeth Warren's DNA results with a racial slur?
Donald Trump has turned America into a shithole, but Republicans don't care, because -as long as their corporate masters get the cheap offshore labor that takes away good American jobs, they know they have a chance of being re-elected, because they always blame someone else for the miseries of the constituents' social miseries.
The dangerous thing about it is that the poorly educated who re-elect the Shelbys and the Inhoffs of Congress are stupid enough to believe them.